"Miker Produkt" has many years of experience in the field of fruit growing, harvesting and processing. Much of the fruit comes from our own plantations, in which we take special care of the control of the varieties we grow, crop and harvest the fruits at the optimum technological maturity necessary for the superior quality of frozen fruit as an end product.
Our orchards are mostly located at an altitude above 1000m. Due to the ideal climate in the unspoiled nature for growing raspberries, the presence of insects is minimal and therefore the production is extensive.
We also procure fruit from a selected group of cooperators whose control is performed at all stages from planting through harvesting and transportation to our cold storage facilities. Particular emphasis is placed on the hygiene of fruit pickers and harvesting equipment.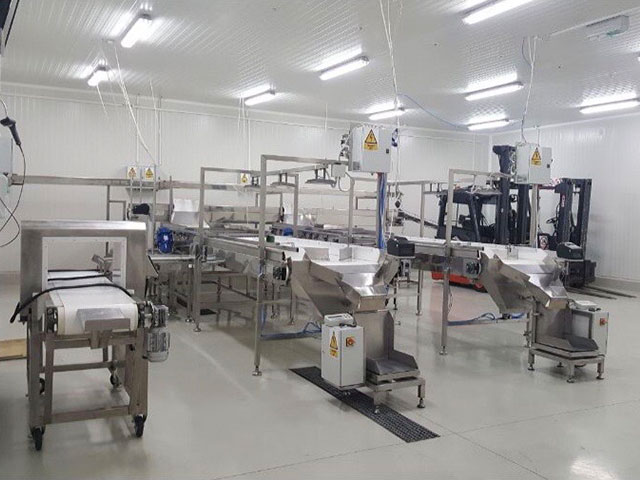 Fruit processing
Serbian cold storage "Miker Produkt" pays special attention to receiving, controlling and monitoring the traceability of freshly harvested fruits.
We aim to optimize the time elapsed between harvesting, receiving and freezing. This ensures that the fruit retains all of its natural qualities (taste, smell, color, texture and nutritional value).
The processing facilities are equipped with state-of-the-art technology, such as a special room for air-conditioning of fresh fruits, special deep-freeze tunnels, Blizzard 640 laser and optical sorting machine, frozen fruit conveyors, modern chambers for frozen fruit, metal detector, etc.
Control of all stages of production is ensured through the use of a modern Cold Storage Application software solution that complies with the recognized FSQS (Food Safety and Quality Management) food safety system.
The Cold Storage Application software enables us to monitor the production process during the entire production in our own plantations or the control of cooperators through the Book of Agricultural Producers module, through sampling and analysis, to tracking theraw materials at the single crate level.
At all stages of processing, the process is controlled by our expert team and skilled workers.