Production technology
Cold storage "Miker Produkt" is equipped with modern technology for processing and deep-freezing of fruits, a special facilities for air conditioning of freshly harvested fruits, a special tunnel for deep freezing and Blizzard 640 laser and optical fruit sorting machine.
In order to ensure that our customers always receive safe and quality products from us, we follow the legislation, the latest know-how from the food industry, best manufacturer practices and standards from our business domain. With the introduction of new standards in the field of food safety, we create the preconditions for entering new markets.
Product safety
"Miker Produkt" d.o.o. implements the Codex Alimentarius (Hazard Analysis and Critical Control Points) HACCP food safety system (CAC / RCP 1-1969, Rev. 4-2003) as well as the food safety system according to the requirements of ISO 22000:2018 certified by international certification body "Quality Austria".
Priority of "Miker Produkt" d.o.o. is the satisfaction of our customers with the safety and quality of our products as well as the exact adherence to the delivery time.
Our employees are fully trained, qualified, capable and motivated to realize production according to all requirements for product safety.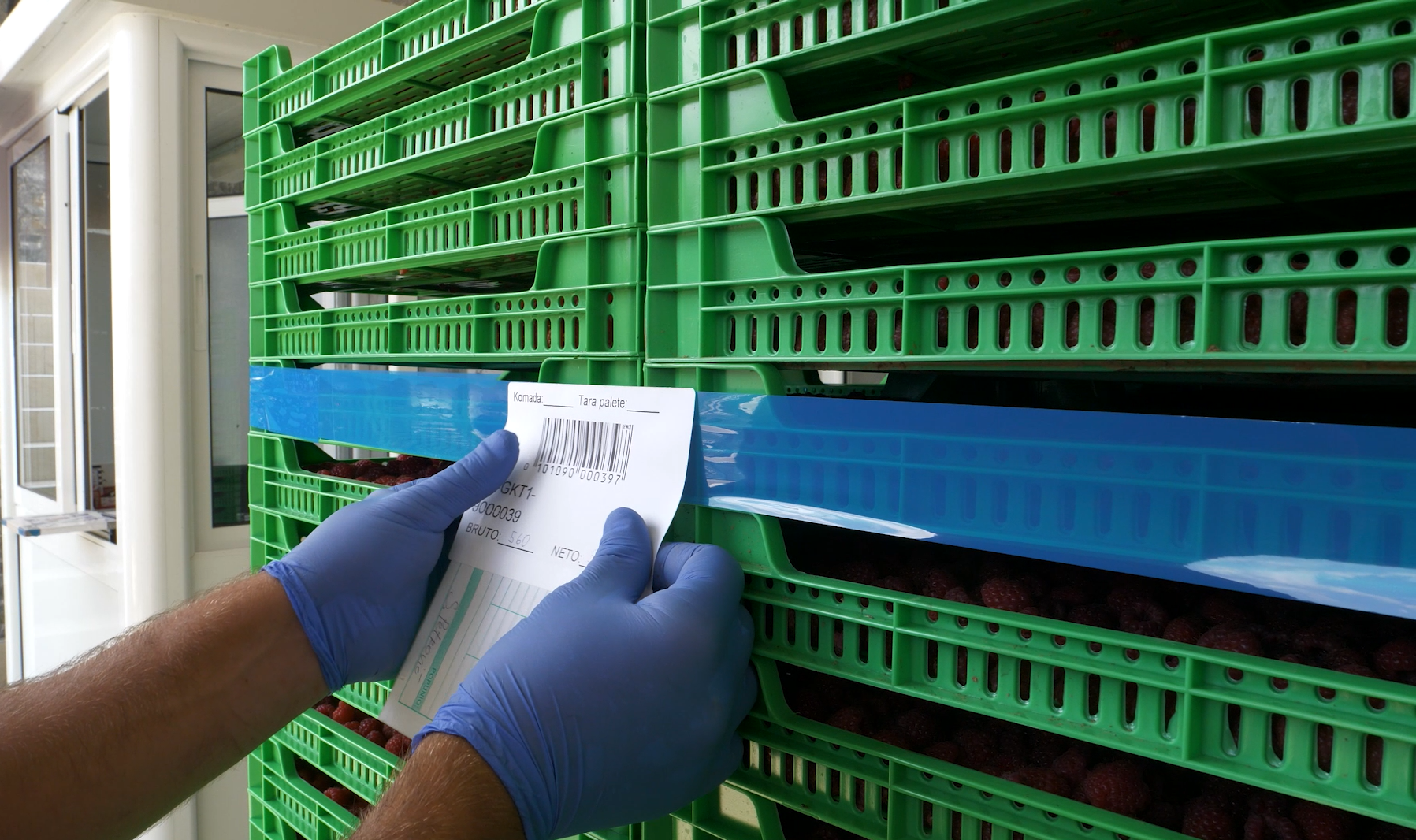 About raw materials and products
Our fruit suppliers - cooperators are verified, reliable, of consistent quality and especially fast and accurate in the delivery time. Raw materials (fruits, vegetables and forest fruits) and other raw materials are health-correct, which has been verified in authorized laboratories and confirmed in the admission control.
We pay special attention to the control of all stages of fruit processing. We use a state-of-the-art software solution to track the flow and traceability of raw materials and products. All information on raw materials and products is in digital format, without unnecessary use of paper. All stages of production, from purchase, through processing, to packaging and shipping, are covered.
The principle of continuous progress is our approach to the continuous improvement and improvement of the food safety management system.
Modern technologies in harmony with nature ...
Software control of traceability and all stages of production
The Food Safety and Quality System (FSQS) is a recognized food safety and quality management system, based on the application of the latest scientific knowledge, adaptive methodologies, innovative technical solutions and experience from proven world practice. The application of FSQS in the food chain enables manufacturers, processors and food operators to be recognized for: their ability to deliver safe products; meet consumer expectations regarding food quality; compliance with legal, regulatory and standard requirements.
Cold Storage Application, a software intended for use in cold storages, is FSQS's specialized software solution for business processes: support for agricultural production; redemption; processing; packaging; storage; delivery.
In a time burdened by: increased consumer concern about the safety and quality of food that is not thermally processed and repeatedly passed from hand to hand; increased presence of toxic elements, chemical contaminants, pathogens and radionuclides; health incidents caused by the use of these foods (and with fatalities); By returning goods from the customer or from the border and blocking the cold storage in cases where traceability cannot be documented, Cold Storage Application provides protection against the above risks and the predictability, security and continuity of operations.
Application of Cold Storage software allows us :
A compelling demonstration of commitment to food safety and quality by implementing a world-renowned solution;
Compliance with a legal obligation defined in the "Food Safety Act" which reads "a food business operator shall have in place a system and procedures in place to ensure the availability of traceability data";
Preventing incidents of food security threats and significantly reducing the consequences of such incidents;
Protecting both the interests and interests of farmers, not only from financial risk but also from criminal liability (the "Food Safety Act") in incidental situations resulting from the identification of an unsafe product, traceability

at the crate level

;
Effective and efficient action in situations where urgent action is required due to food safety emergency.
Cold Storage Application business application consists of modules: Farmer's Book, Sampling and Analysis and Food Traceability.
Farmer's Book - A module designed to: support farmers in the application of good agricultural practice; records of measures applied and results achieved in agricultural production; analysis of results, errors observed and improvement of agricultural production.
Sampling and Analysis - A module designed to: manage sampling; records of the results of propulsion analyzes and analyzes conducted by reference laboratories and state and regulatory bodies; for control points (CP) and critical control points (CCP); to evaluate the effectiveness of HACCP implementation; to evaluate the effectiveness and efficiency of the process; to document the achieved level of product safety and quality.
Food Traceability - A module designed to: identify where the raw materials come from, the processing phase, where the finished products go; prompt communication of this information to the competent state authorities; effective and efficient management of recall and recall of identified unsafe products.